Adhoc Relief 2020-21 10% on Running Basic for BPS-1 to 16 & 5% for BPS-17 to 20 for Civil Servants of Sindh Government (Final)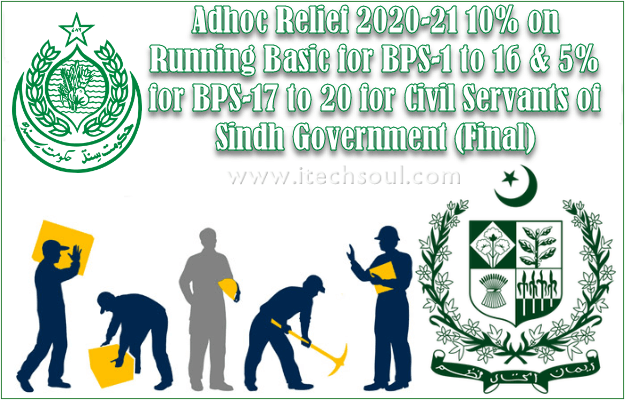 Every year Government of Sindh increases the annual increment of its employees, which is settled according to the grade of the employees. This basic pay scale Chart 2020 final has been prepared by Mr. Mehmood Arshad Wattoo, PCO, PAEC, Islamabad. Below is the chart of Basic Pay Scale (BPS-01 to BPS-20) with effect from 01-07-2020. With the help of this chart you can add the adhoc relief 202o in your present payment according to your grade. You can also see full detail of a Revised Basic Pay Scale chart 2018-19.
Below is the adhoc relief 2018-19 Chart 10% on Running Basic for BPS-1 to 16 & 5% for BPS-17 to 20 of Pay Scale-2019 of The Civil Servants of the Sindh Government 2020. Three adhocs 2016 2017 and 2018 will still remain and 10% adhoc 2019 will give on that running basic. Allowance for running basic pay will be allowed to Sindh Government Employees with effect from 1st July 2020.